One feature that makes PMA unique is a cadre of highly-trained female data collectors (known as resident enumerators, or REs) who work in their own communities, thus establishing a rapport with female respondents that produces reliable information on sensitive topics, like abortion. We spoke with 13 REs in India who show us there is no force more powerful than a woman who is determined to rise. Read their stories.
Pinky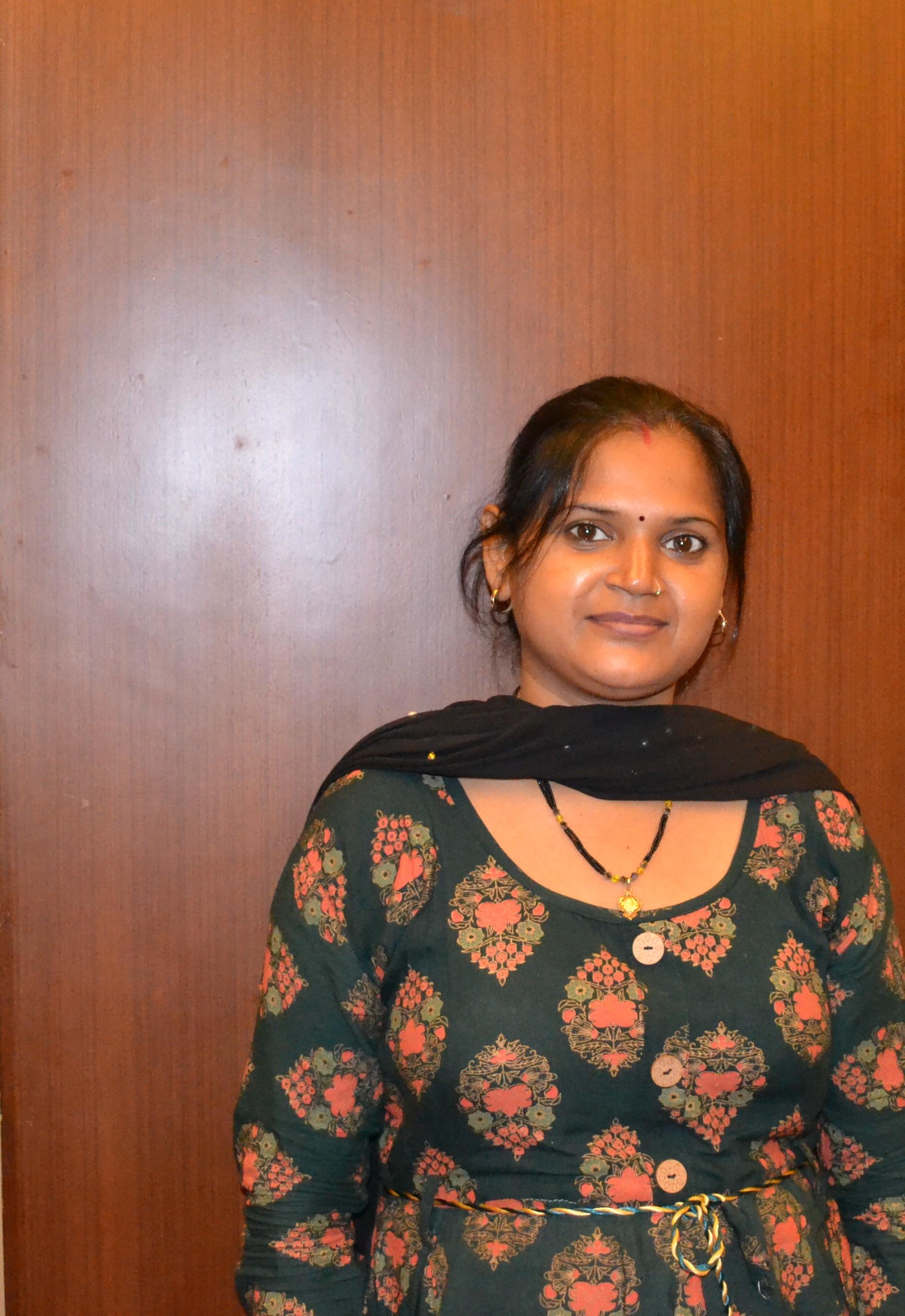 There is no force more powerful than a woman who is determined to rise. Pinky, born and bought up in Delhi, got married in her early years and started living in a small and sleepy town, Mahua. Though she was a graduate, she did not have a voice of her own in the family. She became timid and forgot about her studies and her dreams. She always wanted to study further. The environment in her family made her feel claustrophobic, and she decided to break free.
After joining PMA, she could start her studies again. Slowly and steadily, she decided to open a small coaching center for children with the money she earned from PMA. Initially, there were few children, but today the center is blooming. With the earnings from PMA, she could sustain a coaching center independently. She does not have to look upon others for her living. Today, she earns for the family. 
Pinky has two children. Her husband does not do any work to support his family. During the lockdown, she had to go through hardships as there was no financial certainty. PMA was the only ray of hope for her. She knew that she would earn a certain amount from the organization, and she will be able to sustain her family. PMA gives her space to do other things as well. She gets enough time to study, look after the coaching center and take care of her children.
Pinky used to write poems during her school and college days. Today she is writing her own success story! She is living her dream.
Vandana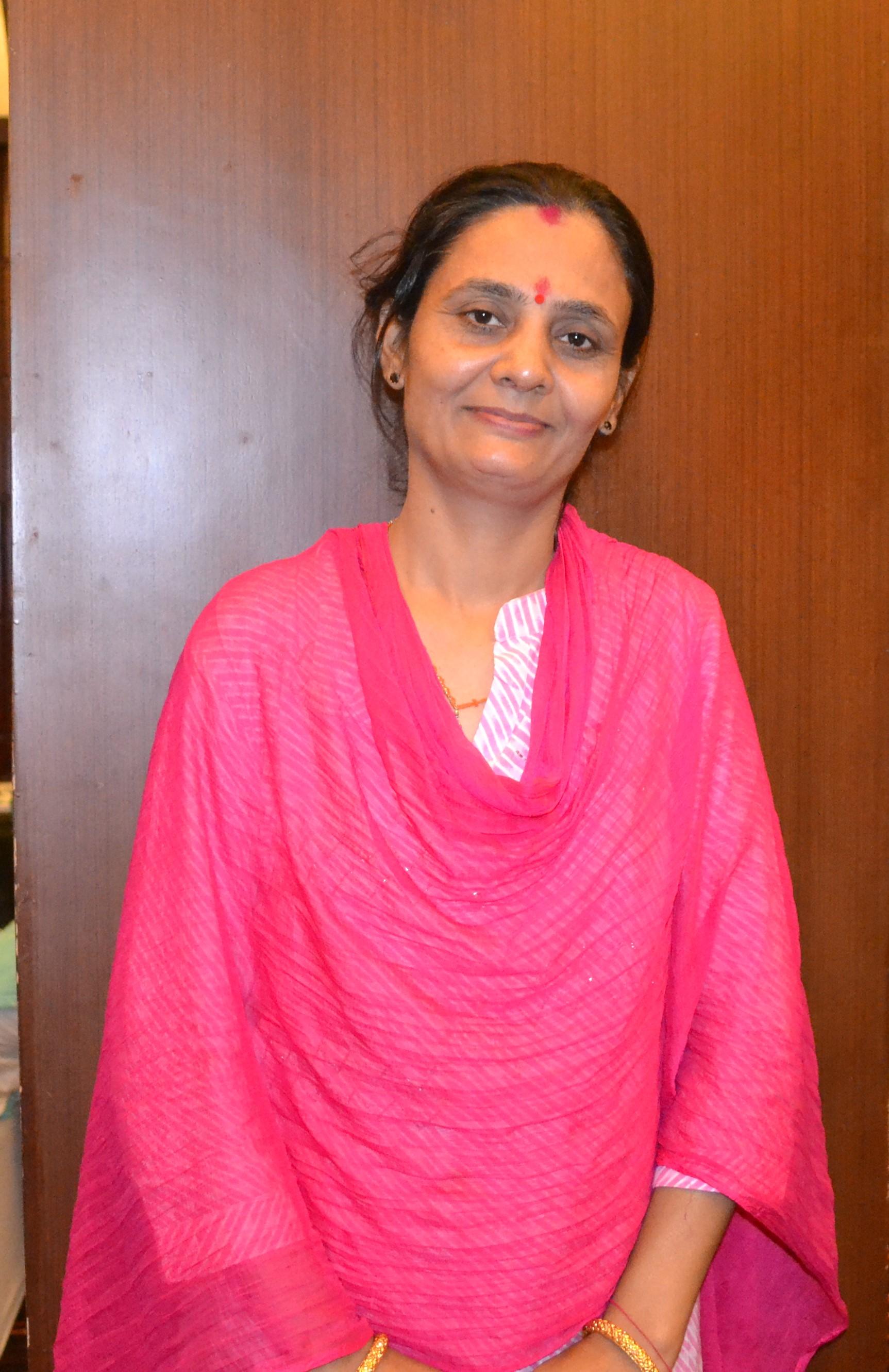 'I strived to create my own identity in my family' says Vandana Tank.
Before joining PMA, Vandana had a parlor of her own. She loved connecting with new people. Some conflicts and struggles in her life led her into depression and her salon was shut down.
She happened to connect with a PMA supervisor and was convinced to join. After joining she met REs who were already working with PMA and gained confidence working and training alongside them. She had almost lost her faith due to the depression she was undergoing.
PMA gave her new wings. "In my family, all the daughters-in-law have respectable jobs and careers. They are well settled and earn well. But I had no identity of my own until I joined PMA," Vandana says.
She adds  "I was struggling to create an image of my own and today PMA has given me my identity. I hold a place in my family today. I have the same status as other daughters-in-law have in the family."
Vandana's husband supported her from the beginning, and it was due to his continued support that she is working with PMA. The community where she lives does not really appreciate women working and going out of the house. With her husband beside her, she could start working and going out into the field. During the lockdown, she had to undergo monetary hardships. "But somewhere I knew, I will earn through PMA and return my debt," said Vandana.
Sharda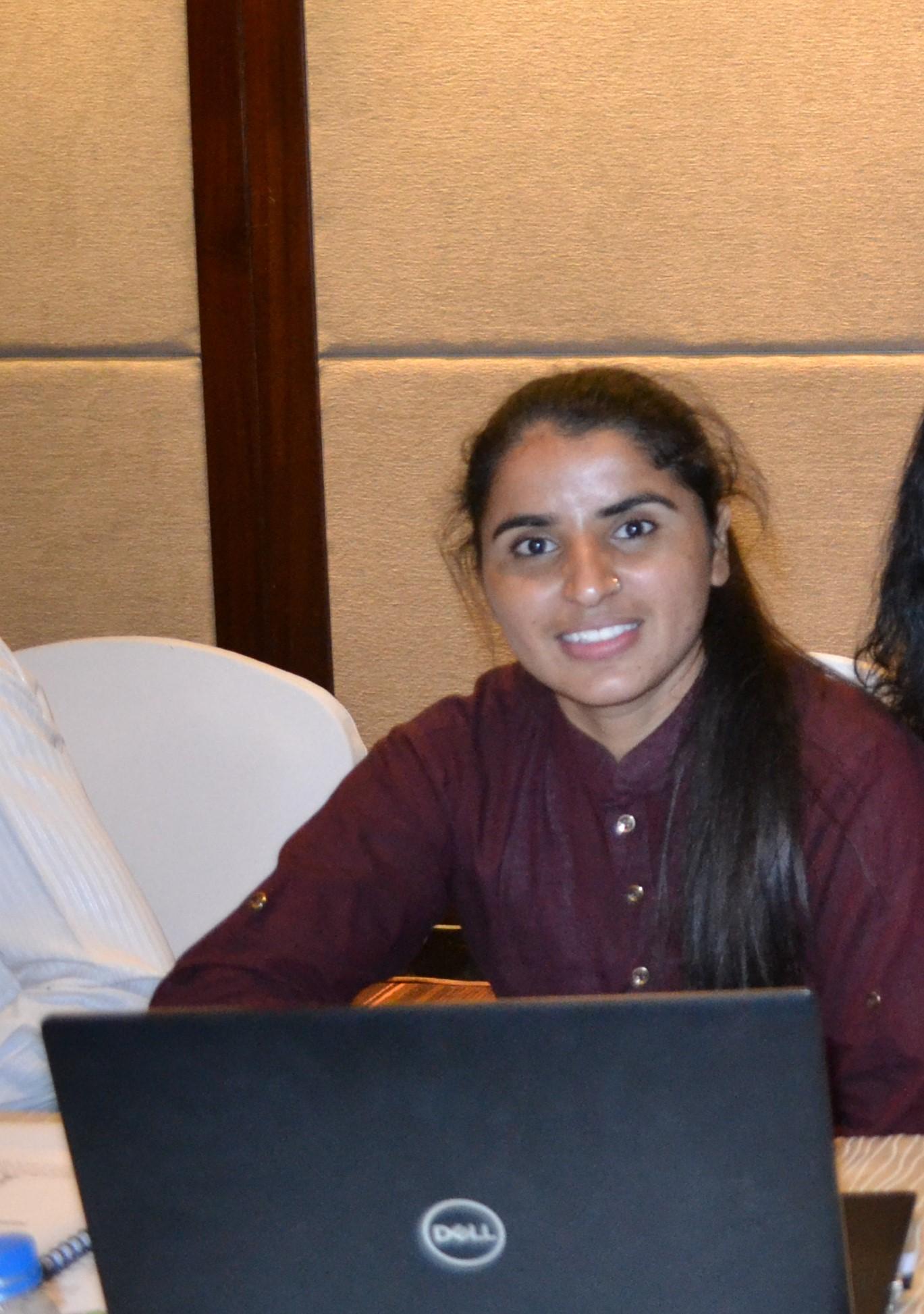 Meet Sharda, a state-level softball and baseball player. Sharda wants to represent India at the international and national levels. Recently, she represented the state in National khelo India (snow baseball) in 2020. She had represented the state in Kabaddi and athletics and won a gold medal in the past.
Sharda, from a town near Bikaner (Rajasthan), is the eldest of four siblings. When she was in grade 8, she realized that she loved sports and that her dreams were different from other girls in her class. As she grew up, living in a conservative society, she knew it was challenging to carry sports as a career. But she was determined and followed her dreams.
She continued with her sports through graduation. However, to pursue her dream, she knew this was not enough. Living in a small town, she could only play in her village, and training and studying for a Bachelor of Physical Education (B.P.Ed) was not possible there. Sharda wanted to come to Jaipur, where she could train herself in softball. Sharda wanted to get enrolled in physical education and teach sports. However, she had limited money to study further. She could not find any source of earning.
Sharda came across a PMA Supervisor and then decided to join PMA as an RE to realize her career. She shifted to Jaipur and got herself enrolled in a B.P.Ed program. With the money she earns from PMA, she is training herself under a private coach while pursuing her degree. She carries on with her studies and training while working with PMA.
"I know this is just a beginning. For me, this is the first ladder of success which I could perceive due to PMA. "-Sharda.
Robin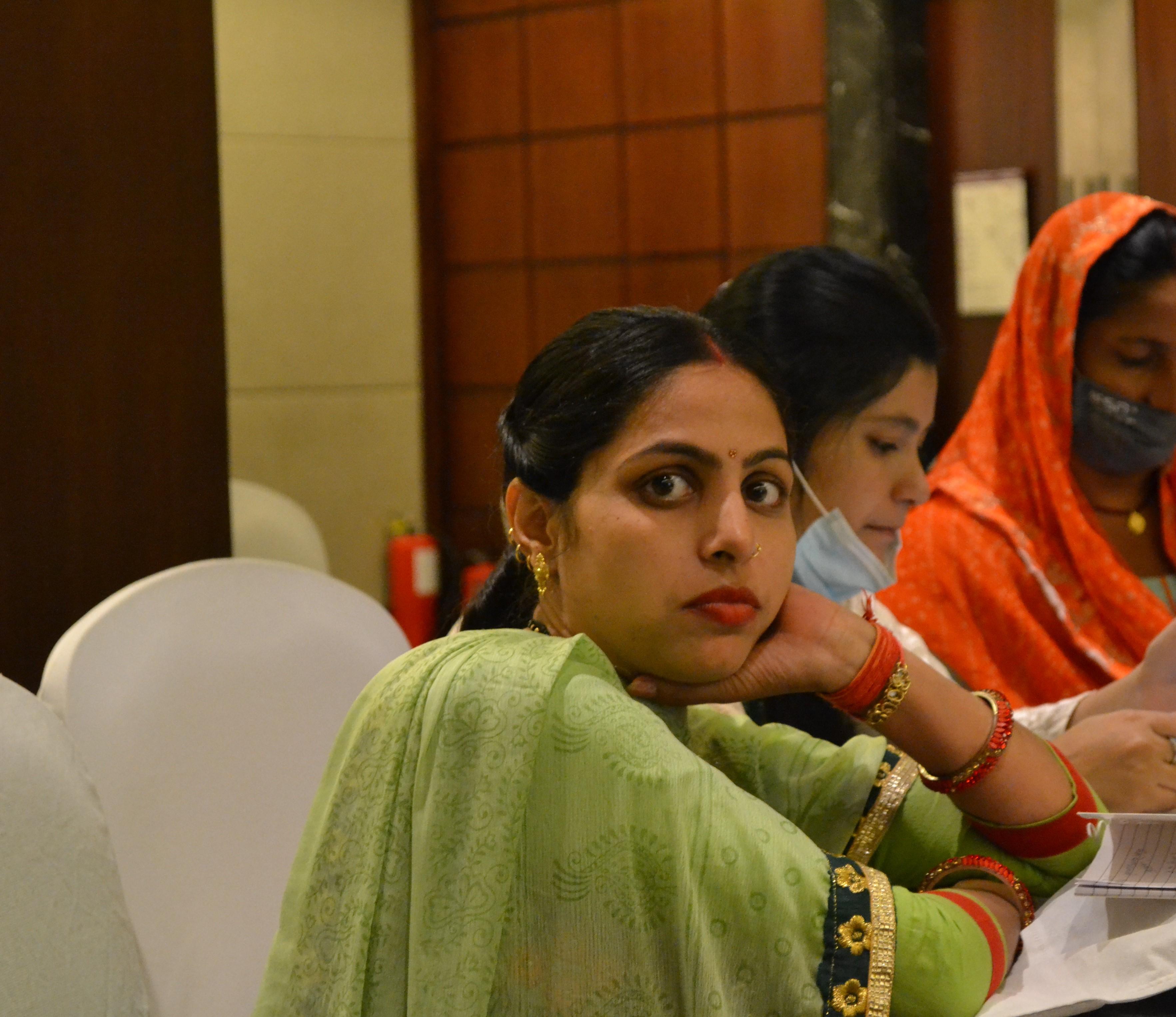 Robin is an RE from Bharatpur, Rajasthan. Robin has an exceptional story to tell. "It is from PMA that I learned about the various family planning methods available," says Robin.  Immediately after her graduation, she got married. Today she has three children. She got married very young, unaware of family planning. She wanted two children with a gap of a minimum of three years.
When she came across a PMA Supervisor and discussed the role of RE, she immediately was interested in joining and earning money to live her dream. Robin always wanted to be independent. She wanted to study and pursue a Ph.D. as she was a bright student. Robin could not resume her studies after her marriage as kids happened very early.
From the money she earns from PMA, Robin plans to earn her Ph.D. Robin has also applied for teaching and plans to teach children in the school while continuing with her studies.
"Today I know about the various methods of family planning and its importance as we get a lot of knowledge about this during training sessions for the data collection on family planning. Earlier, I used to be very shy talking about this. But now I can talk freely, and I also inform my friends in my community about various methods available so that they make a conscious decision,"-Robin.
Babu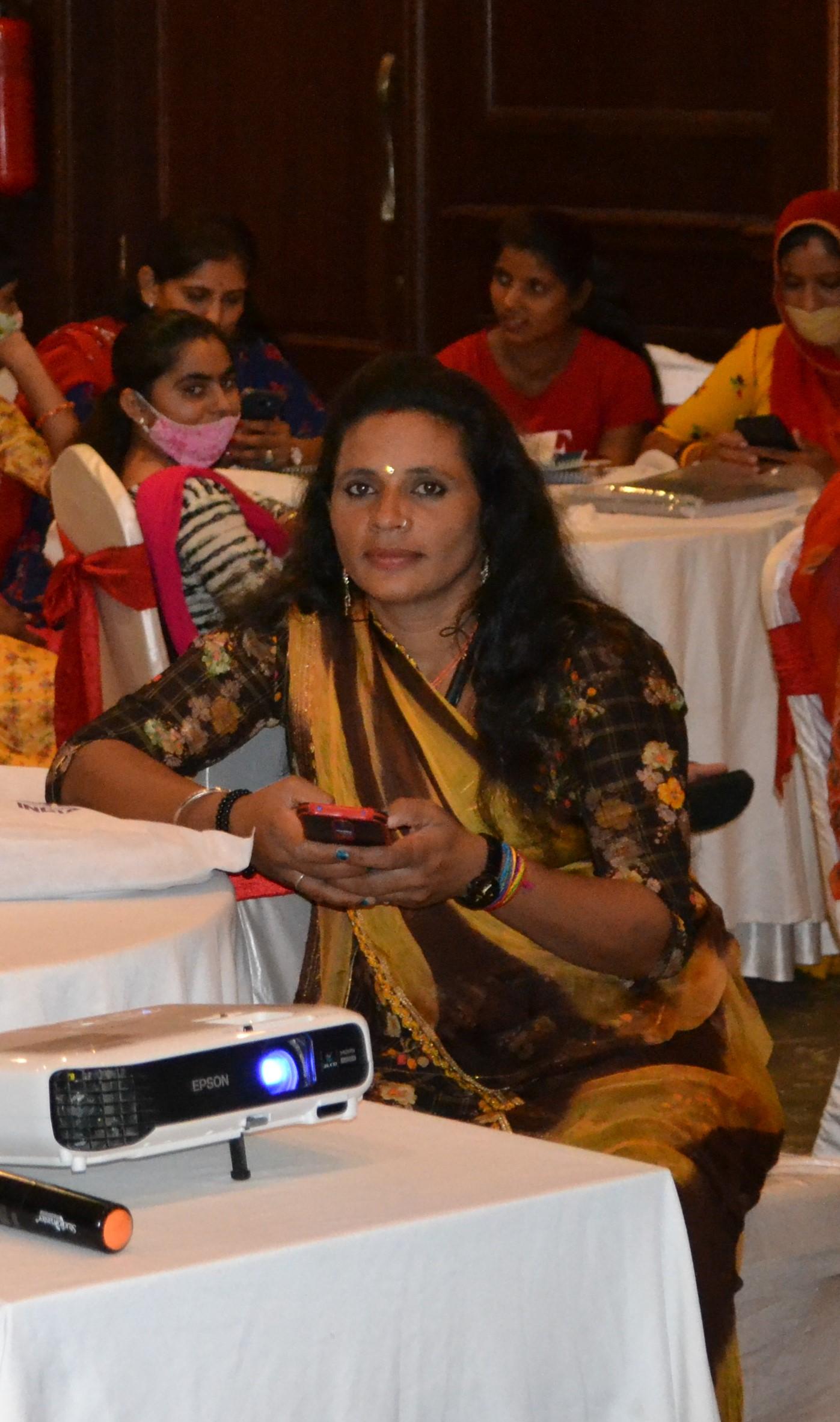 "PMA has given me a new avatar. It has transformed my life completely," says Babu Devi, a 31-year-old mother of two children from a village near Jalore, Rajasthan. "It is from the money I earned from PMA - I built a toilet in my house last year. I also constructed a kitchen from the same money two years back." Babu Devi's husband is medically unfit to work in factories. It was becoming difficult to sustain with two children, and PMA came to her life as a boon.
Babu Devi's story of hardship to lift herself and her family out of poverty is one that could be told by millions of people across India.
Babu Devi had studied till grade 8 when she got married. Then she completed her 10th grade after a lot of hardships post marriage. She was a bright student and recalled that when her parents could not afford to pay the fee for her further studies, the teacher came home to convince her parents to send her to school. After joining PMA, she continued her studies, and now she has completed high school. She also wants to pursue her university graduation next year.
"I was from an impoverished background. I had no confidence to work ever. When I came to the training for the first time, I was hesitant to enter the room as I looked unfit. My clothes did not match anyone. But my supervisor insisted I continue for two days and take a chance, which I did. After two days, I could understand the working of an RE and how the data is collected through a smartphone. I forgot about my looks and concentrated on my training which I was enjoying", said Babu Devi, recalling her first day of training in Jaipur.
"I had no idea about the kind of lifestyle people have in cities, how they talk, eat, and how life works. Today I can manage everything alone. I have gained enormous confidence working here. I know, since I work, I earn, I can face the world."
Sumitra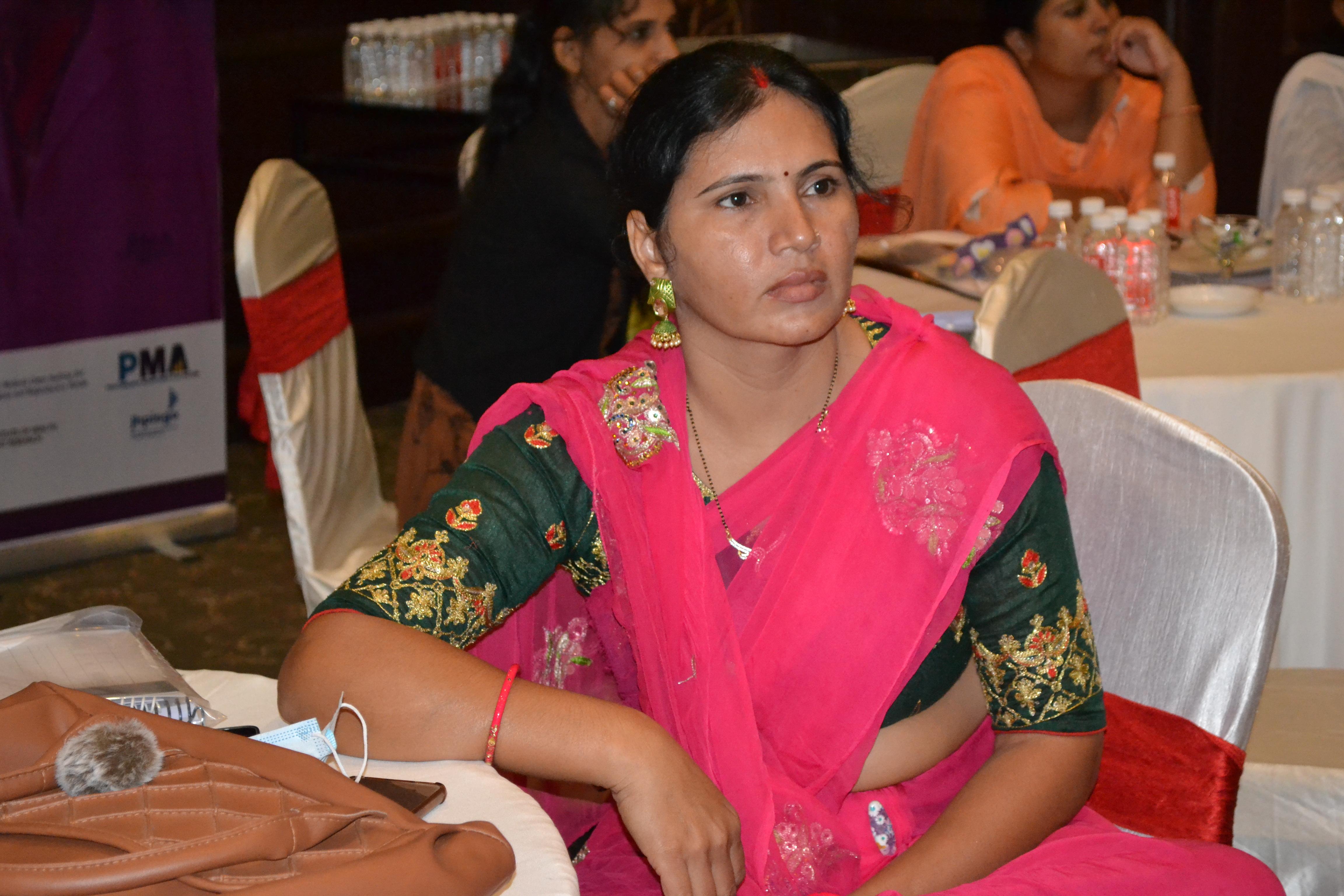 Sumitra is a schoolteacher in a private school in Peelwa, a village near Jodhpur. She studied for a MA in English Literature and is preparing for her entrance exam and for getting a job in a government school. "Though I was earning, the salary from PMA is the added money that gives us faith to dream for a better future. I spend my PMA earnings on my children and their studies," she said. Sumitra has been attached with PMA for five years. Sumitra's son used to study in a village school. Now that she has some added income, he learns in a city school. Sumitra's daughter wants to become a doctor. She hopes she can fulfill her dream as well if she continues to work with PMA.
Sumitra loves data collection as she gets an opportunity to meet so many women and know their hardships in life. Seema has acquired interpersonal and interview skills while working and training under PMA and wants to use them while collecting data.
During the lockdown, her husband's shop was closed and her salary was also not coming.  "I saved some money from PMA, through which I could sail through the difficult times," said Sumitra.
Butki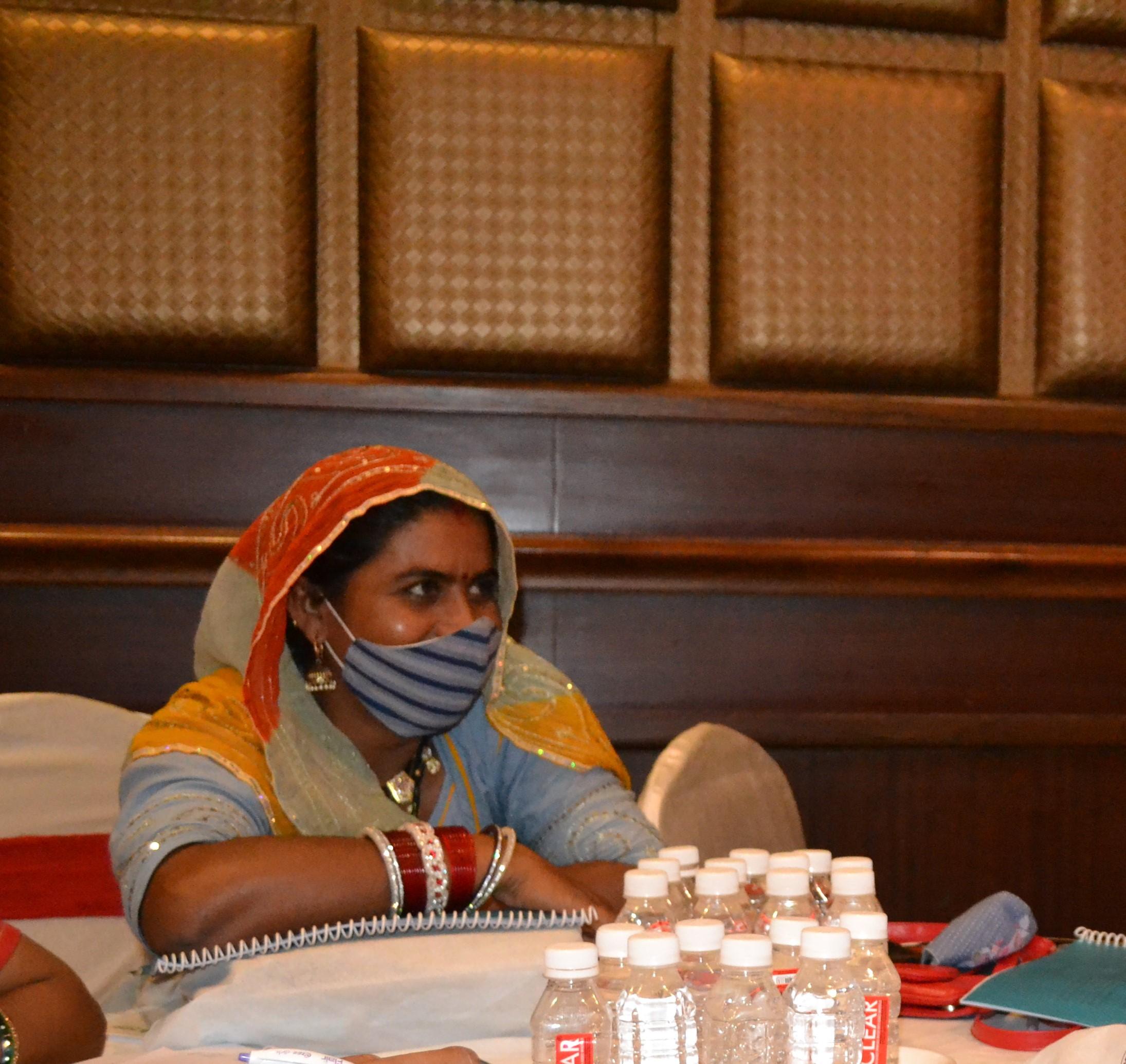 The Sum in the middle of Thar desert, near Jaisalmer, had just one literate woman a couple of years back. Rajasthan has the lowest female literacy rate (52 percent) in the country, according to the 2011 census. Butki Devi, the only literate woman, now works for PMA and has two children. Earlier, she was only engaged in household chores. She had many apprehensions before joining PMA but didn't want to miss an opportunity to earn. In Sum, even today, women don't work, they are confined to their homes. "When I got this opportunity through my supervisor, I thought I could earn some money and save for my children's education," says Butki.
Butki's children are grown up and need to study in a good college outside the village. Her daughter is very sharp in her studies and wants to become a doctor. She ensures that her daughter studies and stands on her own. To fulfill her daughter's dream, Butki must earn money. Butki's husband is a driver and earns to support the family, but they need to earn more for her children to study further. "My husband is very supportive. The houses at Jaisalmer are located in distances. I go along with my husband to collect data on his vehicle. I feel I am doing something good for my family. My children are so delighted about my work, and they tell their friends about me. It is a matter of pride for them," she adds "I meet so many people when I come for training. It is here that I saw the other part of life. Otherwise, I only knew that taking care of children and family was the only duty.  I never thought that this kind of life was also normal."
Gajju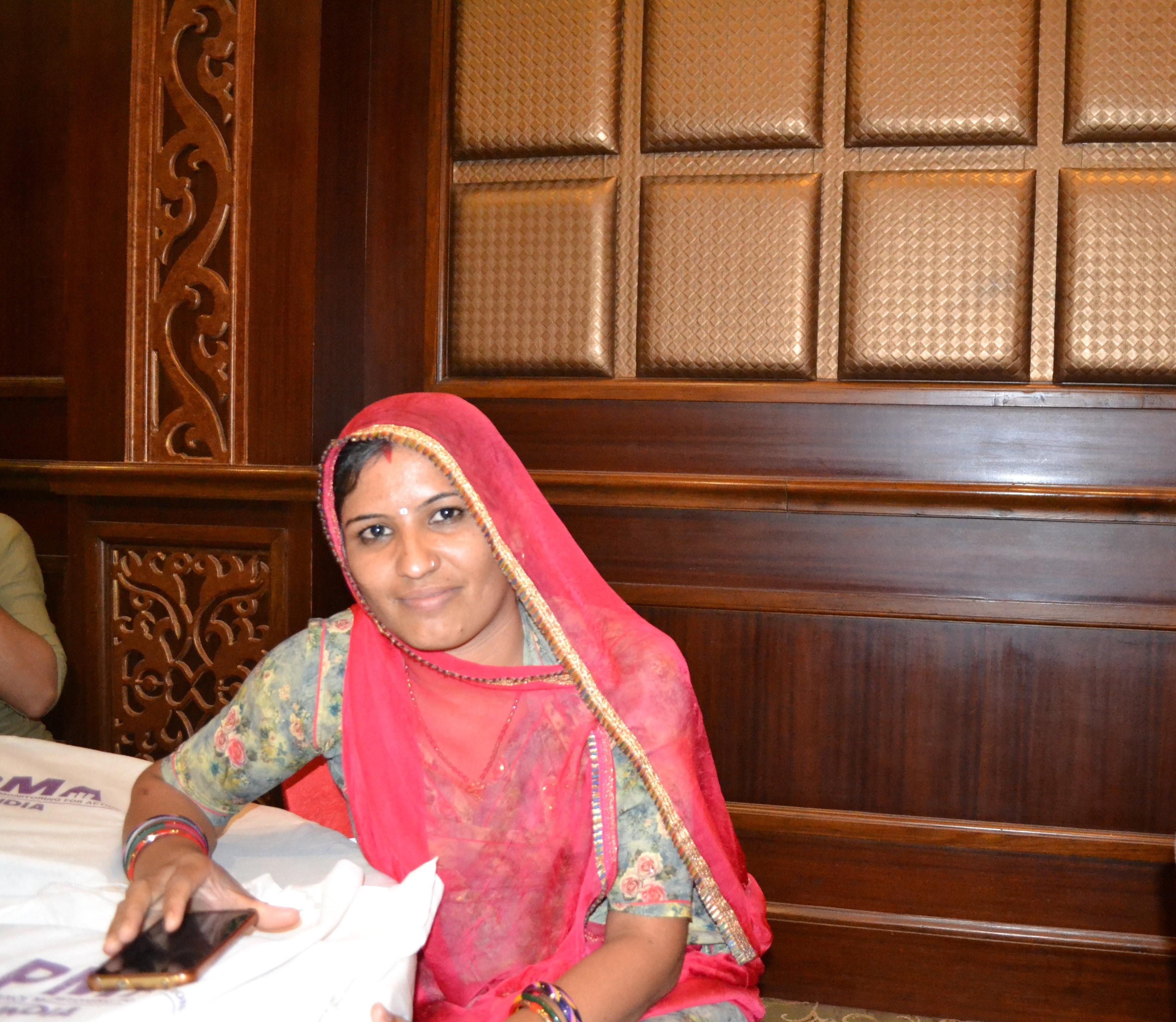 Gajju Devi has been working with PMA since 2017. Gajju lives in a small village near Barmer in Rajasthan with her son and husband. Apart from PMA, she also works in a private hospital as an auxiliary nurse midwife (ANM). But the salary she earns is not enough to sustain her family. Her husband works in a factory in a town nearby. "We cannot depend on private jobs, and salary is also meager. During lockdown, there were no earnings. I arranged for money I earned from PMA to buy food for the family. There was massive uncertainty with no salary coming, and factories closed. "
Gajju Devi says they could still live in better conditions due to the money that she earned from PMA. "Our lives have certainly improved due to PMA. I trust that if I continue with PMA, I will save up a good amount required for my children's education," -Gajju Devi.
Kesi
Kesi Devi started working with  PMA in 2016.  She has a 3-year-old son who is unable to walk. Kesi works to earn for her son's treatment. Her husband works in the Democratic Republic of Congo (DRC). There was no job here, so when he got this opportunity, he decided to go and earn some money to sustain his family. The money he sends is spent in the house. "I am earning and saving for my son's treatment as I know we might need some good money to cure him. I want him to live a normal and stable life. For that, I depend on PMA ."
Kesi's husband was short of money to buy his tickets when he was planning to go to the DRC. She had saved some money from her PMA salary and used that to purchase his tickets. "My salary from PMA has always helped us in difficult times," says Kesi.
Kesi enjoys working with PMA. When asked what the best part of training is, she said, "During training, I get to interact with so many women around. For us, this is a lifetime opportunity as we come from a very impoverished background. We have never experienced such a life. We all come together and stay in a good place and get trained."
Achlee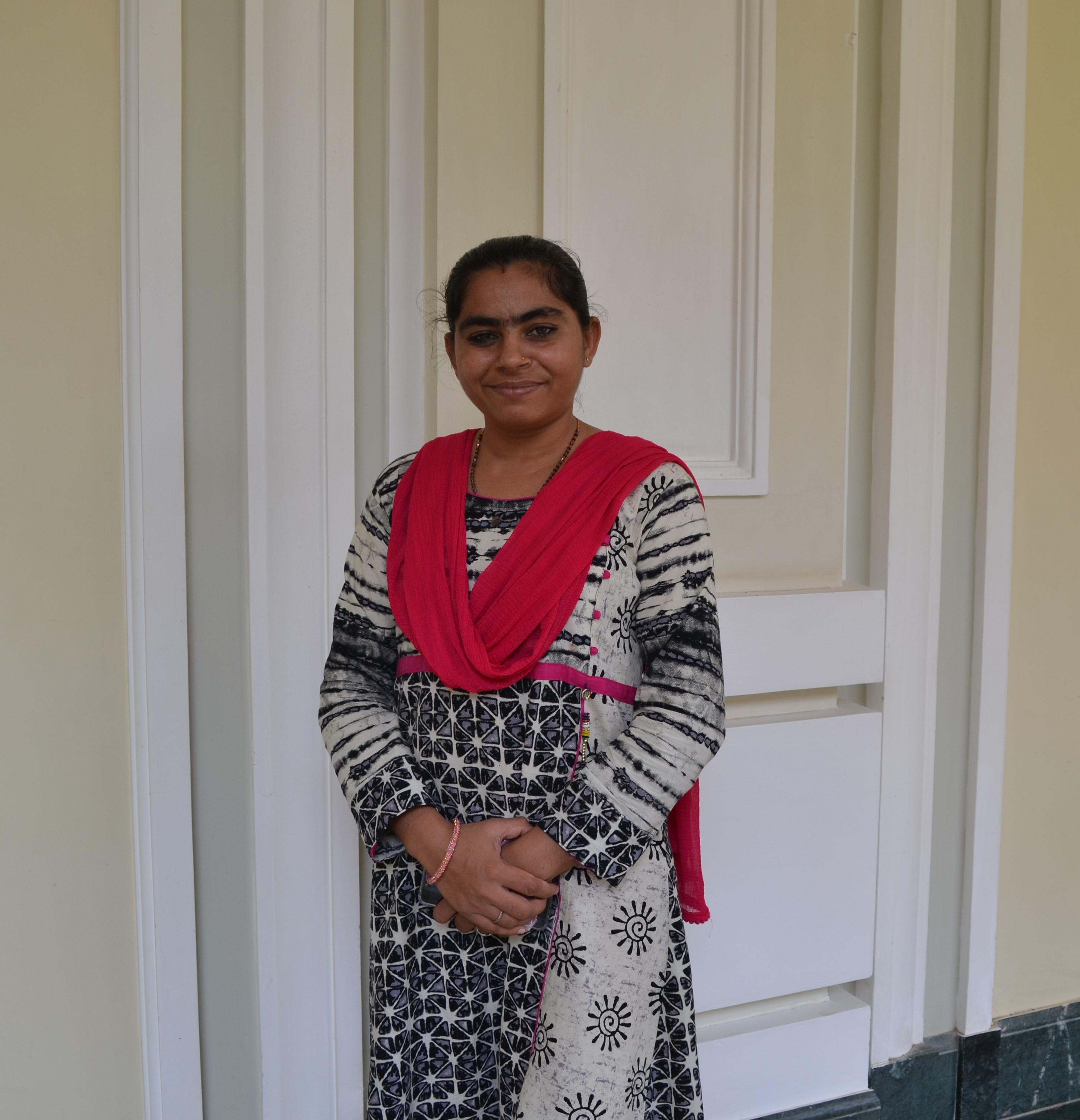 When the going gets tough, the tough get going may be a cliché for some, but for many women facing struggles daily, there's no option but to meet them and move on.
Achlee comes from a deprived family. To study, her family laid down a condition that she could only go to school when she completed household work. "I used to wake up very early and work at home, then go to school. My dad was a farmer. He fell ill and then he had no money to spend on my school. Later I got married, but I continued with my studies and graduated. As I wanted to earn to improve the conditions at home, I chose to do a diploma in ANM (auxiliary nurse midwife)".
Achlee was convinced by her friend to join PMA, who was an RE. Looking at her condition, her friend suggested to work and earn some money to support her family. Her children were tiny, and she could not work as an ANM as it required a whole day. With PMA, she could manage kids and work. Achlee's husband works in Gujarat. "With the money I save from PMA, I want to open a shop for him in my village so that we all stay together. That's my priority, and I can make it happen with the money from PMA." After working with PMA for 4-5 years, Achlee developed the confidence to work. She has also started working in a private hospital as an ANM. "My childhood was full of struggle, I want to give a better life to my children. PMA opened a new door in my life," said Achlee.
Seema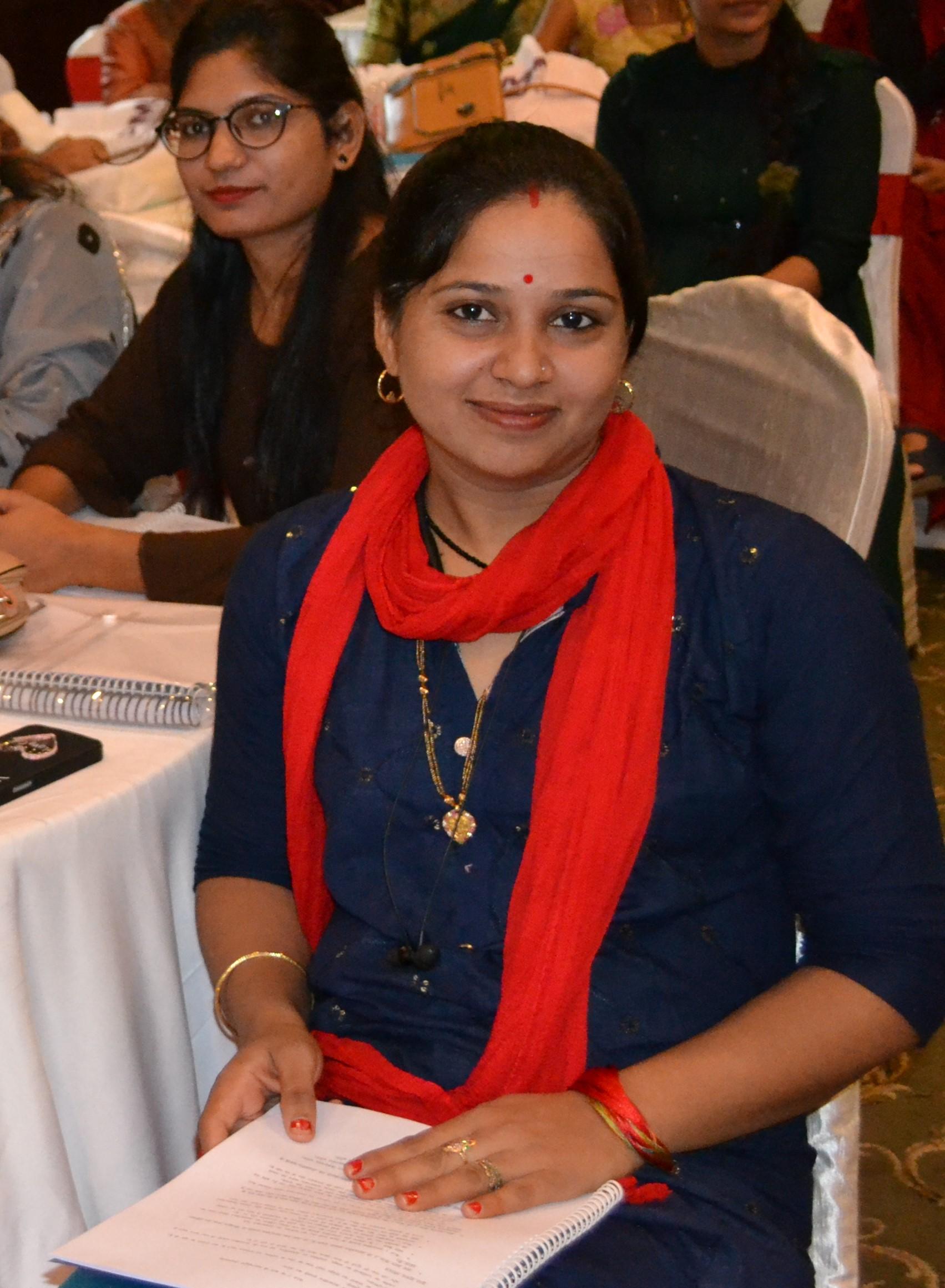 Seema has been working with PMA since 2018 and she is still doing her studies. She had to drop her studies because she was undergoing a divorce. She came back to her parent's house and had to face a lot of negatives from the people in her community. Seema was very heartbroken. "When I got to know about PMA, I was happy to know that I can also earn which was much needed. I used to feel very guilty that I have become a burden to my family.  People were very negative about me as it is a closed society and women are only seen as the main reason for a broken marriage. But now that I earn money people look up to me now. I have an image."
After working with PMA, Seema gained confidence as she was earning. She could also think of remarrying. Everything around her became positive only after she started earning. Seema said, "My parents are also happy that I could settle down again, PMA was a driving force. Earlier my life was so dark, after joining PMA it bought light to my life. I can speak in the society; I can go out and meet people and now I am also pursuing my studies." PMA has taught her to be resilient and confident. Seema had gone through a time where she was broken and wanted to end her life. As she earns now, she has gained confidence. She could win the trust of her people in the community. Seema says," I am looking for a job, but I don't think there is any job like PMA. Here we get a lot of respect and security."
Sunita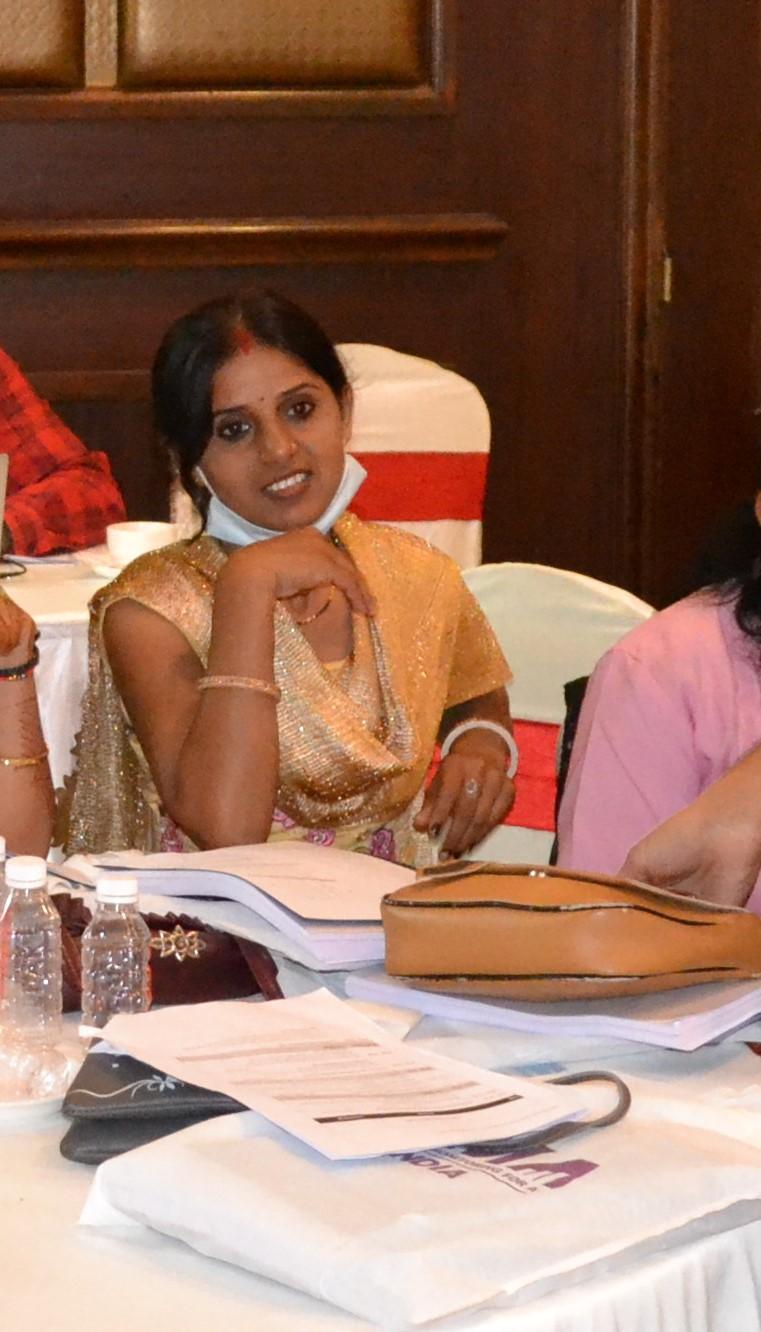 "I became independent after joining PMA," says Sunita Meena. "After joining PMA, people of my community and the nearby area started recognizing me. They call me 'Surveyor Madam,' and I feel so honored by this tag.  Having confidence and support from people, I also stood in Panchayat elections in my village. Though I could not win,  I could fight for the elections, which is the biggest achievement for a woman like me who could not think of stepping out from the home to work at one point in time.  All this happened due to PMA." Seema has bought her own vehicle.. She also started a business. "With the two-wheeler, it became easier for me as I could drive; I used to purchase sarees from the city and sell it at my village." There is a massive difference between the Seema of today and the Seema that started with PMA six years back. "My lifestyle has improved. I am a confident woman now. People in my community were so negative about working earlier. Now that they can see a change in me and my lifestyle, they also want to join here." Seema feels that the best part of PMA is the training sessions where they meet so many other women and interact, become friends, and have great fun while training.
Krishna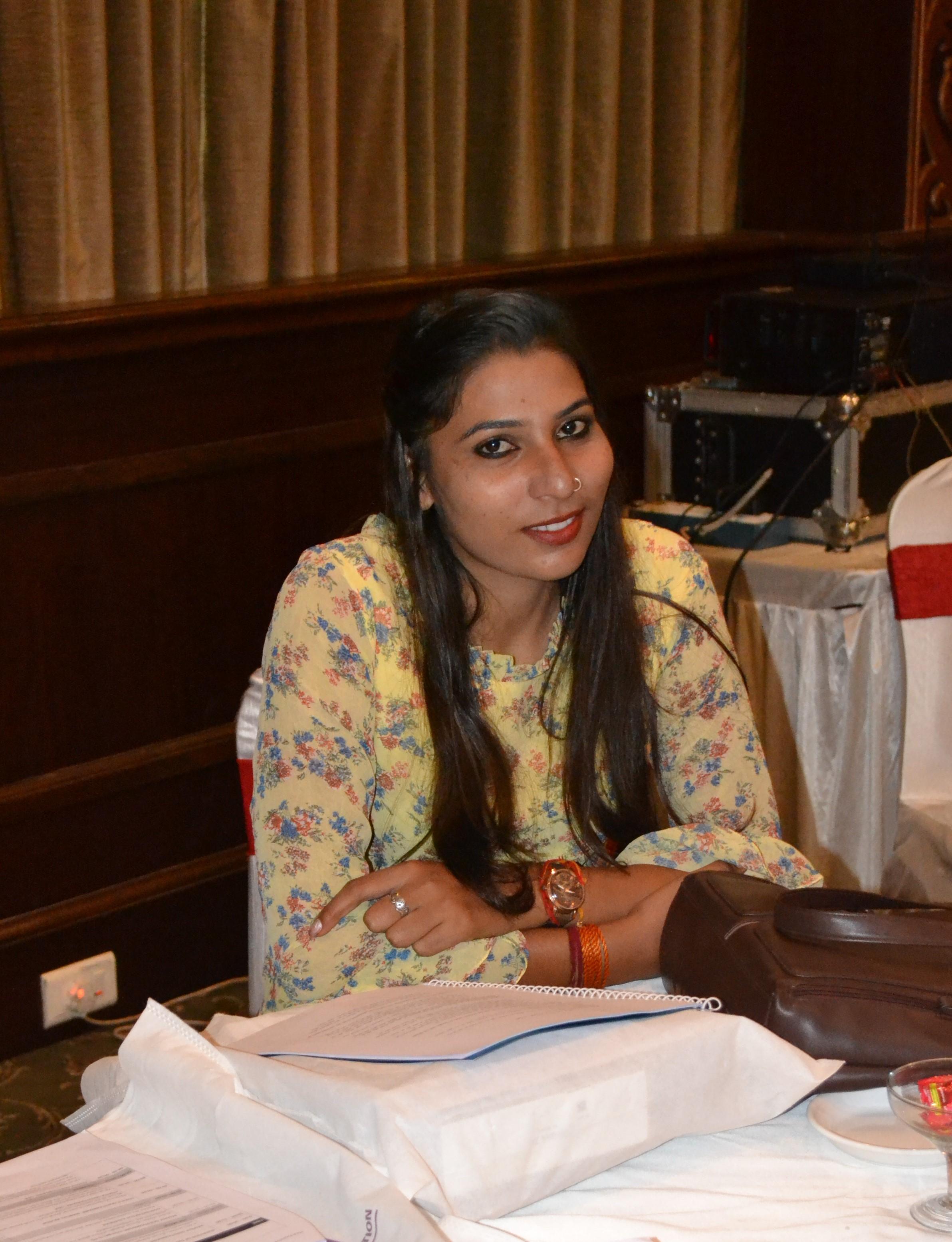 A lot of challenges dot a woman's path to success, but many have taken on the mantle to power through them all and succeed against all odds. Krishna's story is a prime example of this sentiment.
"PMA came to me when I was going through a struggling phase of my life. It came as a life savior," said Krishna Singh. Coming from a closed Rajput family, Krishna never went out alone apart from her school. Confined to her house, she could never think of working and looking after her home. But life had a different story written for her. Her father met a sudden death, and at the same time, her only brother was involved in a false judicial case and was jailed. Suddenly everything fell on her.
Krishna was shattered. She got attached to PMA during that time. She came for her first training very apprehensive. "I was a girl who never went out alone in my town. I had no clue how to manage alone with my mother, who I had to look after. I started working with the hope that this would bring some money to sustain me. Slowly I was also gaining confidence and trust that I could handle situations alone. Somewhere my trust was attached with PMA. I grew up here. I had to manage everything alone. I continued my studies through the money I earned and also applied for another job," said Krishna.
With her sheer hard work, Krishna landed a job, working in a finance company. "I don't want to quit PMA, as it was a driving force in my life. I learned a lesson that no one helps anyone; one must fight your own battles. I owe a lot to PMA; the life I am living today is due to PMA." Krishna's brother is home today, and she could fight the case only from the money she earned from PMA. "I have seen a harsh life. I want to keep myself attached to the company and people who supported me that time," Krishna said.